CyberKnife Treatment in India
Cancer is the leading cause of death worldwide. The way of treating cancer has also changed dramatically in recent years. The emergence of new treatments has improved the outcomes of patients with cancer. Radiation therapy is one of the main modalities for cancer treatment. In recent years, radiation oncology has evolved rapidly regarding treatment equipment, imaging, and information technology innovations.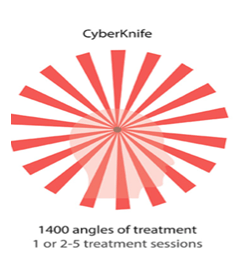 Newer delivery techniques have enabled highly enhanced precision radiation therapy and contributed to improvements in tumor control, with a tremendous reduction in treatment-related side effects, thereby improving the quality of life.
The CyberKnife System is a non-invasive treatment option for cancerous and non-cancerous tumors and other conditions requiring radiation therapy. It includes radiotherapy equipment comprising a robotic arm and a linear accelerator (LINAC).
Previously, radiotherapy was delivered only by conventional methods with an overall treatment time of 1 to 2 months. With the advent of innovative techniques, the same treatment can be completed within a very short span by delivering higher doses with greater accuracy.
Because of the flexibility of the robotic arm, the CyberKnife system can administer radiation therapy for tumors located anywhere in the body, including the brain, head, neck, spine, lungs, liver, pancreas, kidneys, and prostate.
Numerous coplanar and non-coiled angles are used, along with 3D images. It may be an alternative to surgery for patients who refuse to have surgery and with tumors that are inoperable or difficult to operate on. Many cancer patients have benefited from the CyberKnife treatment, which has more than 20 years of clinical evidence to support it.
Patients treated with CyberKnife today would frequently have been untreatable with traditional radiation therapy or surgery in the past. Treatments with the CyberKnife typically require 1 to 5 sessions. It is a daycare procedure, so there is no need for hospitalization.
So, if you are looking for the best CyberKnife treatment in Bangalore or Mumbai in India, contact Prof. Dr. Sridhar PS at HCG Hospital.
How Cyberknife treatment is performed in India
CyberKnife treatment in India is a state-of-the-art radiation therapy technique that offers a non-invasive alternative to traditional surgery for treating tumors and certain malignancies. Only highly skilled radiation oncologists can operate this advanced CyberKnife System.
In India, medical facilities with the latest technology and infrastructure provide a conducive environment for CyberKnife treatment. These facilities ensure patient comfort and safety throughout the treatment process.
The CyberKnife System combines advanced imaging technology, such as CT scans and MRI, with sophisticated robotic precision to deliver radiation with sub-millimeter accuracy. This allows for the precise targeting of tumors while minimizing radiation exposure to surrounding healthy tissues.
CyberKnife treatment is available in various cities across India, ensuring accessibility for patients from different regions. Prominent hospitals and specialized clinics offer this advanced treatment option, with dedicated teams of radiation oncologists and supporting staff.
How much does CyberKnife Treatment Cost in India?
The CyberKnife cost in India may vary depending on several factors, including the type and location of the tumor, the number of treatment sessions required, and the specific medical facility chosen. However, CyberKnife treatment in India is generally considered cost-effective compared to other countries offering similar medical services.
It is important to note that the cost of CyberKnife treatment in India typically includes the entire treatment process, including consultations, imaging, planning, and the actual radiation sessions. Additional expenses, such as diagnostic tests, medications, and post-treatment follow-up, may vary and
should be discussed with the healthcare provider.
When comparing the CyberKnife cost in India with other countries, patients often find that they can save a significant amount without compromising the quality of care and expertise provided by experienced radiation oncologists.
How does the CyberKnife System Function?
The CyberKnife System is the only robotic system capable of tracking the tumor and the patient's movement while adjusting the LINAC simultaneously to ensure that the treatment is administered with extreme precision.
With the aid of an X-ray imaging system, the CyberKnife System can move with the tumor rather than limiting the patient's mobility. As the name suggests, you might picture a scalpel, anesthesia, and surgery.
Though, it is a non-intrusive technology. Treatments are typically administered in brief sessions lasting 60 to 90 minutes over 1 to 6/7 days.
Indications for the CyberKnife Treatment
The type of pathology in question, the total number of lesions, the size of the tumor, the specifics of the disease, and the patient will influence the number of sessions and length of therapy.
Lung Cancer: It is a highly effective treatment for patients with respiratory failure.
Liver Cancer: It permits precise removal of liver metastases while sparing normal liver tissue.
Pancreatic Cancer: Patients who cannot undergo surgery to remove the pancreatic tumor can benefit from this treatment.
Prostate Cancer: Patients with localized prostate cancer most frequently undergo this procedure.
"Unlock the path to recovery: Embrace the transformative potential of CyberKnife – inquire today."
Benefits of CyberKnife Treatment
The most sophisticated radiotherapy robot in the world is the CyberKnife system. These developments significantly speed up treatments and expand their adaptability to address the full spectrum of potential indications.
This special ability can target the tumor with a higher dose and greater accuracy. The common side effects of conventional radiation therapy are decreased by avoiding nearby healthy tissue. The advantages also include:
It is a non-invasive treatment.
It is cutting-edge and provides reliable results.
Conventional radiation therapy can take up to six weeks. However, CyberKnife in India takes up to six or seven days.
For those who have incurable cancer or, in some cases, for patients looking for an alternative to surgery, this treatment offers new hope and opens doors.
There is no room for error because the entire system is robotic.
Conditions treated with Cyberknife
CyberKnife treatment in India is highly effective in treating various conditions, including tumours and cancer types. It can treat malignant (cancerous) and benign (non-cancerous) conditions. Some common conditions treated with CyberKnife
include:
Pancreatic cancer
Kidney cancer
Bone tumors
Head and neck tumors
In addition to cancerous conditions, CyberKnife treatment can treat non-cancerous conditions such as arteriovenous malformations (AVMs), trigeminal neuralgia, and acoustic neuromas.
The CyberKnife System was designed to administer radiation therapy using an external beam:
SRS delivers several focused radiation beams to treat tumors and other conditions in the brain, neck, lungs, spine, liver, and other body parts. It is a non-invasive procedure, which means no incisions are involved.
Radiation therapy has advanced technologically, thanks to stereotactic body radiation therapy (SBRT). Because it delivers extremely concentrated radiation over a brief period (days, not weeks), it differs from conventional radiation therapy.
Small cancers that haven't spread to other organs are treated with SBRT. Large radiation doses are delivered while limiting the amount of radiation reaching nearby healthy tissue and organs that might harm them.
SRS and SBRT use three-dimensional image guidance to deliver radiation beams precisely to the tumor. Apart from damaging the DNA of the cancer cell, it also acts on the tumor microenvironment while making the tumor shrink faster by preventing cell multiplication.
The advent of real-time tumor tracking and high precision makes SBRT an option for retreatment of tumors that have previously received radiation. Moreover, the immunomodulatory effect of SBRT provides tumor control not only locally but also systemic effects like a cancer vaccine.
SRS/SBRT/SABR is a highly conformal radiation therapy technique that delivers intense doses of radiation to the tumor site with high precision and accuracy in 1-6 fractions. SRS and SBRT are highly effective in treating even tiny but well-defined tumors in inaccessible body parts that are tough to remove surgically.
SRS/SBRT/SABR can be delivered by different machines like CyberKnife, Gammaknife, Linear accelerators, and Protons. A CyberKnife is one of the most sophisticated precision Robotic Radiosurgery devices used to deliver SRS/ SBRT to various tumors in the body with the help of a real-time tumor tracking system. Different machines like CyberKnife, Gamma Knife, Linear accelerators, and Protons can deliver SRS/SBRT/SABR.
"Targeted treatment. Unmatched precision. Take the first step towards healing with CyberKnife."
Pre and Post-Treatment Instructions and Guidelines
Before undergoing CyberKnife treatment, patients will receive specific instructions and guidelines from their healthcare provider. These may include instructions regarding fasting, medication management, and any necessary imaging or diagnostic tests.
Following the treatment, patients will receive post-treatment guidelines to ensure proper recovery and minimize potential side effects. These guidelines may include information on physical activities, medications, and follow-up appointments.
It is crucial for patients to closely follow the instructions and guidelines provided by their healthcare team to optimize the effectiveness of the treatment and promote a smooth recovery process.
About Prof. Dr. Sridhar Papaiah Susheela
Prof. Dr. Sridhar PS is a highly-qualified and renowned radiation oncologist in India, having 26+ years of experience. He employs techniques in high precision radiotherapy, such as IMRT, IGRT, Tomotherapy, and SBRT, and targeted therapy, such as biotherapy and chemotherapy. He is also specialized in PET CT Scan.
Currently, Prof. Dr. Sridhar PS practices in Sampangiramnagar, Bangalore, as well as Colaba, Mumbai, at the HCG hospital – The Specialist in Cancer Care. It is one of the best hospitals for CyberKnife treatment in India.
Moreover, Dr. Sridhar, one of the renowned Cyberknife specialist in India and has extensive experience treating hepatobiliary, pancreatic, and prostate cancers and benign and malignant neurological tumors. In 1996, Prof. Dr. Sridhar PS completed his MBBS from Mysore University.
Later in 2002, he achieved an MD degree in Radiotherapy from Banaras Hindu University. Then, in 2004, he completed DNB in Radiotherapy from the National Board of Examination. Further, he practiced as a Senior Resident at AIIMS New Delhi.
Then, Dr. Sridhar completed MD-DN & MNAMS from Delhi. Later, he received training in CyberKnife Treatment from Stanford University. Prof. Dr. Sridhar PS specializes in the CyberKnife technique, also known as whole-body stereotactic robotic radiosurgery.
He is trained in this advanced technique at Stanford University. His expertise includes advanced high-precision radiotherapy methods like IMRT, IGRT, SBRT, 3D CRT, chemoradiotherapy, tomotherapy, and oncology imaging.
Prof. Dr. Sridhar Papaiah Susheela is one of the pioneers in Oncology Imaging. He is highly skilled and experienced in executing CyberKnife procedures and has conducted more than 2700 CyberKnife procedures.
Moreover, Dr. Sridhar has provided radiation treatment for more than 3,000 patients and chemotherapies to critical cancer patients.
Services Offered by Dr. Sridhar
IMRT
Intensity-modulated radiation therapy (IMRT) is an advanced radiation therapy technique used to treat malignant and benign tumors. With cutting-edge technology, IMRT can shape photon and proton radiation beams based on the tumor's size.
IGRT
Each treatment session of image-guided radiation therapy (IGRT) uses imaging techniques. Both cancerous and non-cancerous tumors are treated with high-energy radiation beams in this type of radiation therapy.
Immunotherapy
Your immune system is assisted in fighting cancer by immunotherapy, a cancer treatment. Your body's immune system aids in the defence against infections and other diseases. Organs, tissues, and white blood cells make up the lymphatic system.
Targeted therapy
A form of cancer treatment that goes after the proteins that regulate cancer cell proliferation, division, and spread. Researchers can more effectively create therapies targeting these proteins by learning about the DNA changes and proteins that fuel cancer.
Brachytherapy
It is a form of internal radiation therapy in which radiation-containing seeds, ribbons, or capsules are inserted into or close to the tumor. It is a localized treatment that only addresses a single body part.
Robotic surgery
Robotic surgery also referred to as robot-assisted surgery, gives healthcare professionals the ability to perform complex procedures with more precision, adaptability, and control than possible with conventional techniques.
Frequently Asked Questions
The expert team or your doctor will decide this. The doctors develop a treatment plan after thoroughly understanding your illness and treatment outlook. Your knowledgeable team will advise CyberKnife if you are a good fit.
This process is painless and non-invasive. CyberKnife is available as an outpatient procedure. There won't be any severe discomfort for you. Please let your doctor know if you are experiencing anxiety so they can give you a mild sedative to help you calm down. During the session, you might also consider listening to music.
The length of a CyberKnife session varies from 60 to 90 minutes, and a maximum of five sessions of this kind are required for the entire treatment course.
Due to the pinpoint accuracy with which CyberKnife only targets tumors, it is unlikely that you will lose your hair. However, if you are receiving treatment for cancers near the scalp, you could experience hair loss in the surrounding area.
Once more, this is based on the kind and stage of your cancer. CyberKnife can treat some cancers, but surgery can be the best course of action for others. However, the best person to choose the best course of treatment for your situation is your doctor.