Radiation Oncologist in India
Prof Dr. Sridhar Papaiah Susheela is one of the best radiation oncologist in India, having more than 19 years of experience. He is well-known for his expertise in the latest radiation technologies, such as IMRT, IGRT, SBRT, Tomo therapy, and chemoradiotherapy. He is also specialized in PET CT Scan.
He specializes in treating prostate, hepatobiliary, pancreatic cancers, and benign and neurological tumors. Furthermore, he has a keen knowledge of genomics, radiogenomics, Artificial intelligence (AI), Immunorad & functional radiosurgery.
Dr. Sridhar PS excels in high-precision radiation methods that target tumors with extreme precision and accuracy while minimizing adverse effects. One of the most sought-after radiation oncologists in India, he excels in both knowledge and skills. He strives hard to provide his patients with result-oriented treatments that enhance their quality of life.  He has treated over 10,000 patients in total, including 3000 cyberknife patients.
He stays abreast with the latest advancement in cancer research so that he can provide his patients with high-quality treatments on par with international standards. He has served several social causes and he is enthusiastic about Prevention, the importance of early detection and treatment of cancer patients
Dr. Sridhar Papaiah Susheela currently practices at HCG Hospital, Bangalore and as well as available at HCG Colaba,Mumbai, where he is the Head of CyberKnife Treatment. He is also associated with the International Clinical Services at the hospital.
Specializations of Prof Dr. Sridhar Papaiah Susheela
Dr. Sridhar PS is an experienced radiation oncologist in India who has received extensive training from the best institutes and medical centres all over the globe and also, cyber knife training from Stanford. He is exceptionally proficient and well-versed in his field of expertise.
Academic Accomplishments
Dr. Sridhar PS has impeccable academic qualifications making him one of the top radiation oncologist in India to reckon with.
He completed his MBBS from Mysore University in 1996, followed by MD in Radiotherapy in 2002 from Banaras Hindu University.
After that, he pursued DNB – Radiotherapy from the National Board of Examination in 2004. Then, he went to Stanford University, USA, for training in Cyberknife treatment for the whole body using stereotactic robotic radiosurgery.
He is the President of the Association of Radiation Oncologist of India – Bengaluru, Karnataka.
Joint Secratery at Bangaluru group
Publications and Associations
Dr. Sridhar PS, one of the best Radiation Oncologist in India, has 135+ articles credited to his name in national and international journals.
Furthermore, he is associated with many prestigious associations, such as:
Indian Association of Hyperthermic Oncology and Medicine, where he holds the post of secretary.
He is the secretary of the Neuro-Oncology Society.
He is the President of the Association of Radiation Oncology of India – Bengaluru.
Why choose Dr. Sridhar PS?
Dr. Sridhar PS is among the few radiation oncologist in India who are experienced and skilled in various advanced technologies such as Cyberknife, IGRT, SBRT, IMRT, TomoTherapy, Ethos, and chemoradiotherapy.
He is a pioneer of oncology imaging and has provided radiation treatment to overall 10000+ patients.
He has more than 26+ years of experience in radiation oncology and keeps himself updated with newer developments and techniques.
He is a keen listener, and his compassionate and friendly nature helps his patients feel secure and comfortable.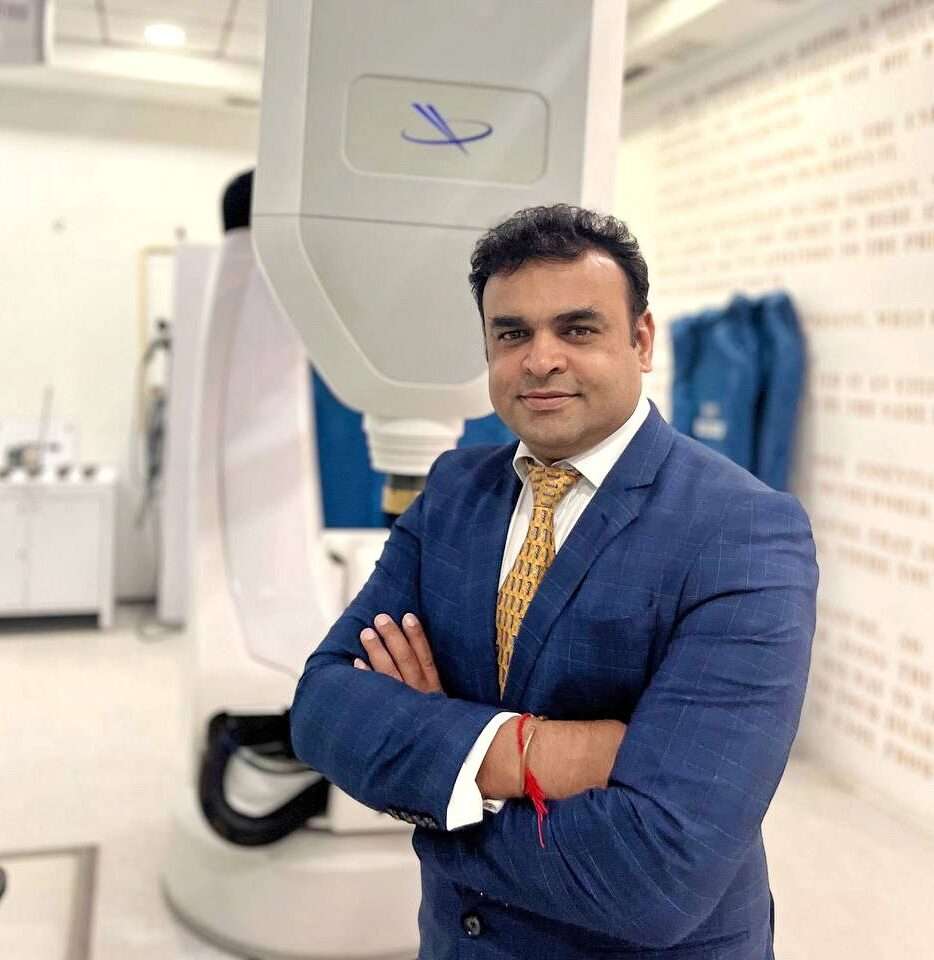 Frequently Asked Questions
Most likely, a thermoplastic mask will be provided if you are having radiation therapy for brain cancer, head and neck cancer, or brain metastases. It has to be worn during treatment and resembles a mesh.
Side effects differ depending on which area of the body is being treated with radiation.Some common side effects are:
Nausea and vomiting
Fatigue
Dry mouth
Difficulty swallowing
Lymphedema
Loss of appetite
Treatments are often spaced over a few weeks to give your healthy cells time to recover in-between radiation therapy sessions. Each treatment session will likely last 10 to 30 minutes.
Radiation refers to the emission of energy in the form of electromagnetic waves or particles. Radiation therapy is a treatment that uses high-energy radiation to kill cancer cells or shrink tumors. Where as CyberKnife, on the other hand, is a type of radiation therapy that uses a robotic system to deliver precise doses of radiation to tumors or other targeted areas in the body.
CyberKnife treatment is typically used to treat small tumors or lesions in various parts of the body, including the brain, spine, lungs, liver, and pancreas. Patients who are not candidates for traditional surgery due to their health or the location of the tumor are eligible for CyberKnife treatment.
Another name for CyberKnife is stereotactic radiosurgery (SRS).