Immunotherapy Doctor in India
Rare cancers, in reality, are more prevalent than many of us realize. They account for approximately 1 in 4 instances globally, which is more than any other type of cancer. And even though most diseases still lack effective treatments, Immunotherapy is a revolutionary technique and has us on the threshold of beginning to change how we treat cancer.
Immunotherapy is a method of cancer treatment that uses your immune system to combat the disease, says Dr. Sridhar PS, a renowned Immunotherapy Specialist in India. It is also referred to as biological therapy occasionally.
Immunotherapy can assist your immune system in locating and attacking cancer cells by enhancing or altering the ability of your immune system to recognize the cancer cells.
Dr. Sridhar PS is among the preferred cancer experts for people seeking to treat cancer by Immunotherapy in India.
About the Doctor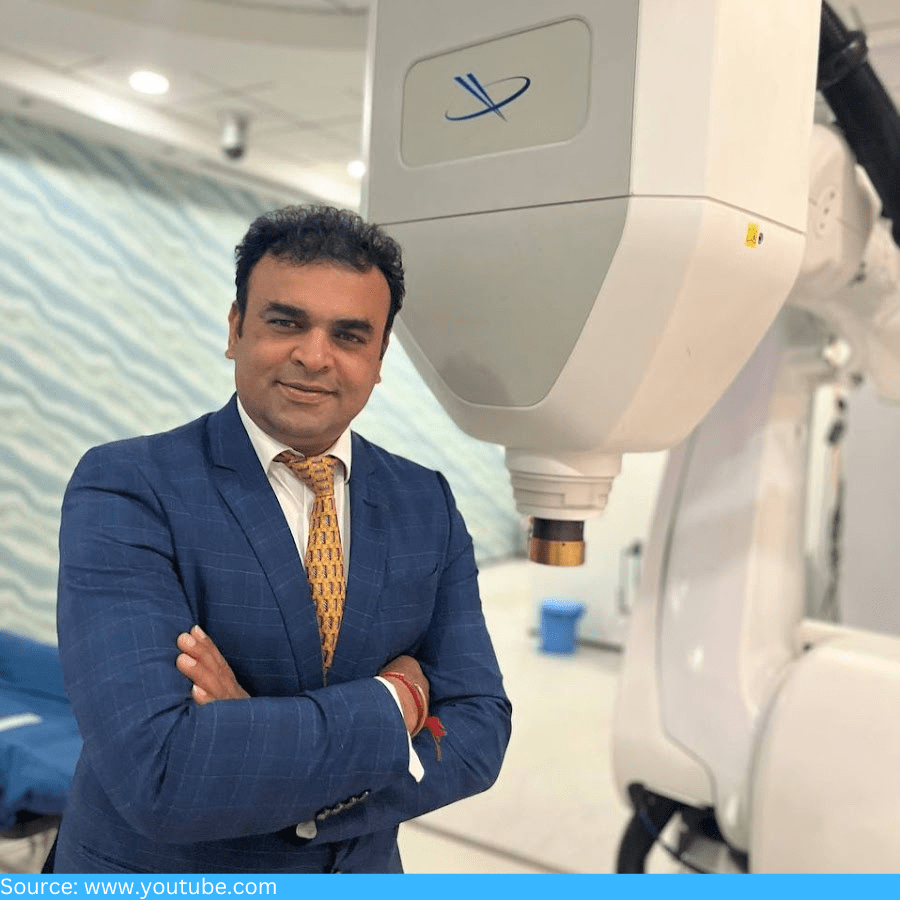 With over 19 years of experience, Dr. Sridhar PS has extensive expertise in treating benign (non-cancerous) and malignant (cancerous) tumors. He employs the most advanced technologies like CyberKnife robotic radiosurgery, Image-guided radiation therapy (IGRT), Intensity-modulated radiation therapy (IMRT), Stereotactic Body Radiation Therapy (SBRT), Chemoradiotherapy, Tomo therapy, and Immunotherapy.
Dr. Sridhar PS is an expert in high-precise radiation techniques that minimize side effects while pinpointing malignancies with incredible detail and precision. He is a highly esteemed radiation oncologist in India, excelling in knowledge and abilities. He works very hard to give his patients treatments that are focused on results and enhance their overall quality of life. He has effectively treated over 10,000 patients, including 3000 CyberKnife procedures.
Types of cancer that can be treated by Immunotherapy
The use of Immunotherapy in the treatment of breast cancer is developing and becoming increasingly important. Studies have revealed that breast cancer is immunogenic, laying the framework for future success.
Dr. Sridhar PS, often regarded as the best immunotherapy doctor in India, explains that immunogenicity is the capacity of a foreign material, like an antigen, to elicit an immune response in our body. Apart from breast cancer, various immunotherapies are applied to treat a wide range of cancers.
Following are some cancer types that can be treated with Immunotherapy:
Acute lymphoblastic leukemia
Bladder cancer
Brain cancer
Chronic lymphocytic leukemia
Colorectal cancer
Hodgkin's lymphoma / non-Hodgkin's lymphoma
Kidney cancer
Large B-cell lymphomas
Lung cancer
Lymphoma
Melanoma
Neck tumor
Ovarian cancer
Prostate cancer
Stomach cancer
Immunotherapy in India can aid in treating cancer either by:
Preventing or slowing the development of cancer within the body.
Preventing the spread of cancer to other organs.
Improving and bolstering the immunological system of the patient
Immunotherapy Cost in India
Immunotherapy is an expensive treatment in itself; however, the cost of Immunotherapy in India is comparatively much lower than in the developed nations of the world.
Please note that multiple immunotherapy sessions can take place, and the duration and frequency of the sessions depend on specific clinical parameters like the patient's state, the type of cancer, and their medical history. Immunotherapy in India costs between ₹1 lakh (US $1,223.22) and ₹1.50 lakh (US $1,834.89) per session, depending on the circumstance.
** INR to US dollar rate as of 23rd November 2022
If you would like to get more information about immunotherapy cost in India based on your clinical parameters, please consult with the top-notch immunotherapy specialist, Dr. Sridhar PS.
What is the procedure of Immunotherapy in treating cancer?
Immunotherapies can be given in the following ways:
Oral – capsules or pills to be swallowed
Topical – ointment or cream to rub on your skin (usually for skin cancer in its early stages)
Intravenous (IV) – directly into a vein
Injection – either intramuscularly, which means into a muscle, or subcutaneously, which means under the skin
Intravesical – into the bladder
Please visit cancer specialist Dr. Sridhar PS to get an expert diagnosis and most suitable treatment options for you.
What is the latest on cancer immunotherapy research?
Researchers are concentrating on a number of critical areas to advance Immunotherapy, including:
Seeking solutions for resistance
Researchers are experimenting with combinations of immune checkpoint inhibitors with other forms of Immunotherapy, radiation therapy, and targeted therapy to overcome the body's resistance to Immunotherapy.
Finding ways to forecast the body's response to Immunotherapy
Only a small percentage of patients who undergo Immunotherapy will respond to it. A significant field of research focuses on figuring out how to determine which patients will respond to the treatment.
Understanding how cancer cells evade responding to Immunotherapy
Greater knowledge of how cancer cells sidestep the immune system could result in the development of novel medications that obstruct these cancer cells from avoiding or suppressing the immune system from responding against them.
Reducing side-effects of the treatment
Medical experts are researching ways to combat the adverse effects of Immunotherapy.
Frequently Asked Questions
Yes. Immunotherapy was introduced in India around 2017 and has gained a lot of popularity. Indian cancer patients typically have advanced stages of the disease, where Immunotherapy has a more significant role to play.
It is up to doctors from different specialties to determine whether Immunotherapy is the most appropriate treatment option for a particular patient. This specialized group of doctors examines the patient's medical background, administers different tests, and selects immunotherapy candidates.
The HCG hospital – The Specialist in Cancer Care in Colaba, Mumbai, and Sampangiramnagar, Bangalore, where Dr. Sridhar PS currently serves, is among the finest immunotherapy hospitals in India with state-of-the-art medical facilities. They help patients with the highest care, offering them support and attention.
Depending on the situation, Immunotherapy in India might cost anywhere from INR 1 lakh ($1,223.22) and INR 1.50 lakh ($1,834.89) for each session.
* INR to the USD exchange rate as of 23rd November 2022
Consult with the leading immunotherapy expert, Dr. Sridhar PS, if you would like more details regarding immunotherapy cost in India based on your clinical factors, such as your medical history and type and stage of cancer.
A more optimistic outlook has been provided to certain patients with diseases, including lymphoma and melanoma, by the innovative, exciting therapy known as Immunotherapy. It is a straightforward yet powerful type of cancer therapy that is transforming cancer care under the skillful hands of cancer experts like Dr. Sridhar PS.
On average, 20 and 50% of cancer patients respond to immunotherapy medications. The rate of response is affected by the type of cancer that is being treated. On the other hand, oncologists think that as immunotherapy research develops and new knowledge about the relationship between the immune system and cancerous cells is discovered, the likelihood of sustained responses may rise.
As explained above, the cost of immunotherapy treatment, including injections, are dependent on an individual basis and concerns various factors like cancer type, stage, and medical history.
Please consult with the eminent immunotherapy expert Dr. Sridhar PS to get detailed information.
Compared to chemotherapy, Immunotherapy improves survival in individuals with advanced metastatic NSCLC (non-small cell lung cancer).
Researchers at UCLA observed that the immunotherapy medicine pembrolizumab raised the average 5-year rate of survival in patients with non-small cell lung cancer (NSCLC) from 5.5% to 15%.