Post Views: 100
Brain tumours are a complex and challenging health issue affecting thousands worldwide. Treatment options for brain tumours vary depending on factors such as tumour type, location, and stage. Among the various treatment modalities available, chemotherapy is crucial in reducing tumour size, alleviating symptoms, and improving overall survival rates.
Fortunately, specialized medical professionals like Dr Sridhar Papaiah Susheela, an esteemed radiation oncologist in India, are dedicated to providing effective treatment options for patients with brain tumours.
Dr Sridhar Papaiah Susheela has19+ years of experience in radiation oncology and a specialization in CyberKnife treatment in India. He strives to offer efficacious radiotherapy and chemotherapy for brain tumours.
In this blog, we will delve into the various aspects of chemotherapy for brain tumours, including its effectiveness, types of chemotherapy drugs used, administration methods, benefits, side effects, and post-operative care.
Overview of Brain Tumours
Brain tumours are abnormal growths within the brain or surrounding tissues. They can be either malignant (cancerous) or benign (non-cancerous).
Malignant brain tumours, especially glioblastoma, require aggressive treatment to prevent further progression and improve patient outcomes.
Let's see,
Types of Brain Tumors
There are various types of brain tumours based on cell type, location, and behavior. The main types of brain tumours include gliomas, meningiomas, pituitary adenomas, medulloblastomas, and schwannomas.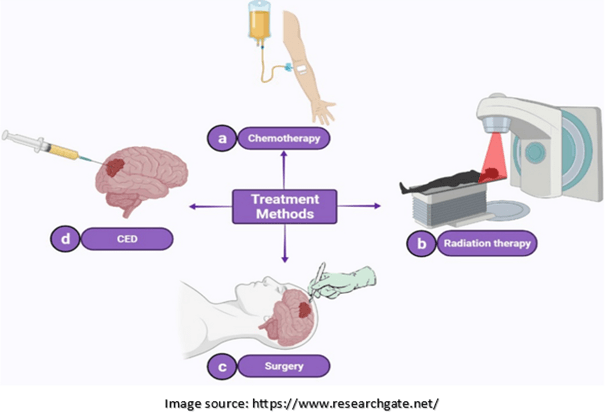 Certain types of brain tumours are more likely to be treated with chemotherapy, typically in combination with other treatment modalities such as surgery and radiation therapy.
Understanding Chemotherapy
Chemotherapy is a systemic treatment that uses powerful medications to target and destroy rapidly dividing cancer cells. Unlike surgery or radiation therapy, which focuses on specific tumour sites, chemotherapy is designed to reach cancer cells throughout the body, including those that may have spread from the primary brain tumor.
Now, let's know,
Which Brain Tumors Are More Likely to be Treated with Chemotherapy?
Chemotherapy plays a crucial role in treating various brain tumors, particularly in cases where surgical intervention may not be feasible or complete tumour removal is challenging.
While the suitability of chemotherapy depends on several factors, oncologists mostly employ it in treating glioblastoma.
Glioblastoma, a type of glioma, is a fast-growing and aggressive brain tumour that often requires chemotherapy for optimal management.
Oncologists frequently utilize chemotherapy and radiation therapy to target cancer cells that may have spread beyond the surgical site.
Dr. Sridhar P S, a leading radiation oncologist and CyberKnife specialist in India has extensive experience utilizing advanced techniques to administer targeted radiation and chemotherapy to combat glioblastoma effectively.
Effectiveness of Chemotherapy for Brain Tumors
Chemotherapy can be highly effective in controlling the growth and spread of brain tumours. It works by inhibiting the division of rapidly multiplying cancer cells, thereby reducing tumour size and impeding further progression.
The doctor's decision to incorporate chemotherapy into the treatment plan depends on individual patient factors, tumour characteristics, and the stage of the disease.
Role of Chemotherapy for Brain Tumours
Chemotherapy can be employed for different purposes in the management of brain tumours. These include:
1. Adjuvant Therapy:
Often oncologists use chemotherapy as an adjuvant treatment after surgical removal of brain tumours. It aims to kill any remaining cancer cells after surgery.
2. Neoadjuvant Therapy:
In some cases, doctors administer chemotherapy before surgery to shrink large tumours and make them more amenable to surgical removal.
3. Palliative Therapy:
In advanced or inoperable brain tumours, chemotherapy can help alleviate symptoms, improve quality of life, and prolong survival.
Now, let's see,
Chemotherapeutic Agents for Brain Tumours
Oncologists employ several chemotherapy drugs to target brain tumours. Depending on the tumour's specific type, location, and grade, these drugs may be used alone or in combination. Common chemotherapy drugs for brain tumours include: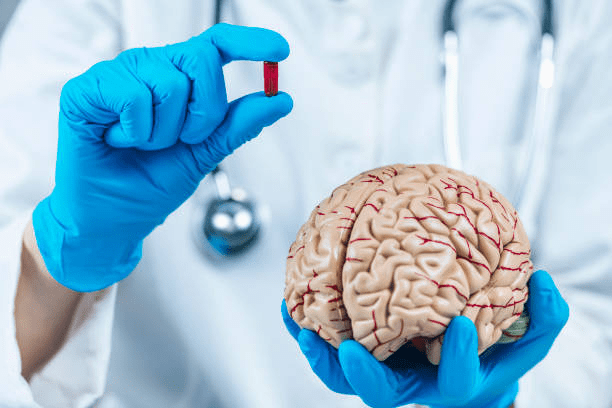 1. Temozolomide (TMZ):
Medical oncologists widely use this oral medication to treat glioblastoma, the most aggressive form of brain cancer. It is often administered in combination with radiation therapy.
2. Injection Irinotecan:
Injection irinotecan which works by inhibiting the action of an enzyme called topoisomerase. This enzyme plays a crucial role in DNA replication and repair processes within cancer cells. By blocking this enzyme, injection irinotecan helps to prevent cancer cells from dividing and multiplying, ultimately slowing down or inhibiting tumor growth.
3. Injection Bevacizumab:
Injection Bevacizumab, commonly known as Avastin. It belongs to a class of drugs called angiogenesis inhibitors, which work by blocking the formation of new blood vessels that supply tumors. By doing so, Bevacizumab helps to cut off the blood supply to cancer cells, inhibiting their growth and spread.
4. Immunotherapy:
Immunotherapy is an innovative approach to cancer treatment that harnesses the power of the immune system to fight cancer cells. It works by stimulating or enhancing the body's natural defense mechanisms to recognize and target cancer cells more effectively.­­
5. Carmustine (BCNU):
Doctors often use carmustine for high-grade gliomas and glioblastomas. It is delivered either through an implantable wafer or intravenously.
6. Lomustine (CCNU):
Like carmustine, lomustine treats brain tumours and can be administered orally.
Methods of Administration
Chemotherapy drugs can be administered through different modes based on the specific drug and individual circumstances. Common administration routes for chemo for brain tumours include:
1. Intravenous (IV) Administration:
IV method is the most common approach for administering chemotherapy. It involves directly infusing drugs into a vein through a needle or catheter.
2. Oral Administration:
Some chemotherapy drugs are available in pill or liquid form, and patients can take them orally.
3. Intrathecal Administration:
Sometimes, chemotherapy may be delivered directly into the cerebrospinal fluid via a lumbar puncture or an Ommaya reservoir.
Let's look at the,
Benefits of Chemotherapy for Brain Tumours
Chemotherapy offers several benefits in the treatment of brain tumours. These include:
Tumour shrinkage:
Chemotherapy drugs can reduce the size of tumours, potentially relieving symptoms and improving the patient's quality of life.
Combination therapy:
Chemotherapy is often combined with surgery and radiation therapy to provide a more comprehensive approach to treatment.
Targeting metastases:
Chemotherapy effectively treats brain tumours that have metastasized from other parts of the body.
Palliative care:
Chemotherapy can help alleviate symptoms and improve patients' overall well-being with advanced brain tumours, with palliative care by enhancing their comfort and quality of life.
Improved survival rates:
In some cases, chemotherapy can extend the lifespan and improve overall survival rates for patients with brain tumours.
Potential Side Effects of Chemotherapy
While chemotherapy is a vital treatment modality, it is associated with potential side effects. The specific side effects and their severity may vary depending on the drug, dosage, and individual patient characteristics.
Some of the common side effects include:
1. Fatigue and weakness
2. Nausea and vomiting
3. Hair loss
4. Suppressed immune system
5. Loss of appetite
6. Increased vulnerability to infections
However, advancements in supportive care have significantly reduced the severity and impact of these side effects, allowing patients to tolerate chemotherapy better. It is crucial to consult with your oncologist regarding the potential side effects and appropriate management strategies.
Post-operative Care
After undergoing chemotherapy for brain tumour treatment, post-operative care becomes essential.
It includes regular follow-up appointments with the oncologist to monitor the response to treatment, manage any side effects, and adjust the treatment plan as necessary.
Patients are advised to maintain a healthy lifestyle, adhere to medication schedules, and seek support from family, friends, and support groups.
Frequently Asked Questions
Q. Are brain tumours curable without surgery?
A. While surgical intervention is often a primary treatment option for brain tumours, there are cases where alternative therapies such as chemotherapy and radiation can be effective.
The curability of brain tumours without surgery depends on various factors, including tumour type, size, location, and individual patient characteristics.
Q. Does chemotherapy shrink brain tumours?
A. Yes, chemotherapy can be effective in shrinking brain tumours. It works by targeting and inhibiting the growth of rapidly dividing cancer cells. The effectiveness of chemotherapy in shrinking brain tumours depends on factors such as tumor type, stage, and individual patient response.
Q. What kills glioblastoma?
A. Glioblastoma is a highly aggressive and malignant brain tumour. It is difficult to completely eradicate glioblastoma due to its invasive nature and ability to spread quickly within the brain. Treatment typically involves a combination of surgical resection, radiation therapy, and chemotherapy.
While chemotherapy can help control the growth and spread of glioblastoma, it may not eliminate the tumour. Ongoing research and clinical trials are focused on developing more targeted therapies and improving treatment outcomes for glioblastoma patients.
Q. How long does chemotherapy for brain tumours typically last?
A. The duration of chemotherapy for brain tumours varies depending on several factors, including the specific regimen, tumour response, and individual patient characteristics. Treatment can range from a few months to several months or longer, and the oncologist will determine the appropriate treatment duration for each patient.
Q. What is the chemotherapy for brain tumour cost?
A. The cost of chemotherapy for brain tumours can vary depending on factors such as the specific drugs used, the duration of treatment, the healthcare facility, and geographic location. It is advisable to consult with the healthcare provider and insurance company to understand the potential costs and coverage options available.