Post Views: 110
Prostate cancer is a widely prevalent condition among men that extends beyond its medical dimensions. It impacts both the physical and emotional fabric of patients and their loved ones. The journey through diagnosis, treatment decisions, and recovery can evoke a range of emotions – from fear and uncertainty to hope and resilience. Navigating this path requires medical expertise, empathy, and personalized care.
In these challenging times, seeking guidance from Dr. Sridhar PS, a seasoned radiation oncologist in India, can offer a steadying hand. Dr. Sridhar stands as a beacon of support, ensuring comprehensive care that addresses the physical and emotional well-being of patients and their families.
Discover groundbreaking strides with new radiation treatment for prostate cancer under the guidance and expertise of renowned radiation oncologist Dr. Sridhar PS.
Understanding Prostate Cancer
Prostate cancer is a type of cancer that develops in the prostate gland, a small, walnut-sized organ situated just below the bladder in men. The prostate gland is crucial in producing seminal fluids that nourish and transport sperm.
"Prostate cancer develops when cells within the prostate gland undergo abnormal growth and multiplication, forming a tumor," explains Dr. Sridhar PS. "While some prostate cancers grow slowly and may not cause significant harm, others can be more aggressive and spread to nearby tissues or other body parts."
Dr. Sridhar PS is the go-to doctor for people considering radiotherapy for prostate cancer in India.
Challenges of Prostate Cancer
The challenge of prostate cancer lies in its complexity and variability. This disease can exhibit slow growth, making it harder to detect and diagnose at an early stage. Balancing the need for intervention with potential side effects presents another challenge. Additionally, prostate cancer's heterogeneity means that treatments must be individualized to address varying levels of aggressiveness effectively.
Overcoming these challenges requires comprehensive screening, informed decision-making, and advanced treatment approaches tailored to each patient's unique circumstances.
Understanding the Dynamics and Risk Factors of Prostate Cancer
Prostate cancer has witnessed a notable rise recently, with a broad range of factors contributing to its prevalence. The most common factors are:
Age: The age group vulnerable to this condition spans from as early as 35-40. However, the most common range lies within the 55 to 60+ age group.
Genetics: Genetics also plays a significant role, particularly with a strong family history. If a father has prostate cancer, the likelihood of his male offspring inheriting it is notably higher.
Genetic mutations such as BRCA (BReast CAncer gene) can further amplify this risk. So, if the mother has breast cancer and her son has the BRCA mutation, he is at risk of prostate cancer.
Other Risk Factors and Influences
Although no singular risk factors are definitively established, specific trends have been observed.
Multiple sexual partners and recurring prostatic or pelvic infections are considered potential initiators or triggers of prostate cancer.
Individuals who regularly consume red meat seem to exhibit a higher susceptibility, as highlighted by its prevalence among African Americans, Europeans, and Africans. This form of cancer is most commonly identified in the Western world. It stands as the predominant form of male cancer within these regions.
Symptoms of Prostate Cancer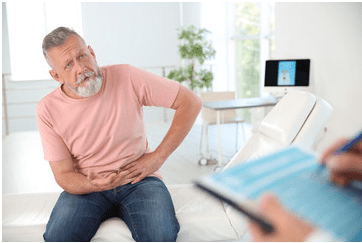 Common symptoms of prostate cancer include:
Urinary Changes like increased frequency of urination, urgency to urinate, a sense of incomplete emptying of the bladder, and difficulties initiating urination.
Blood in the urine (hematuria) can indicate prostate cancer.
Pain or discomfort during urination or ejaculation
In advanced cases, prostate cancer can spread to other body parts, primarily bones. This often leads to bone pain, especially in the lower back, hips, or ribs.
Metastatic prostate cancer can weaken bones, leading to fractures, particularly in elderly individuals.
As with many cancers, advanced prostate cancer may cause fatigue and unintended weight loss.
Other medical conditions can also cause these symptoms, so a thorough medical evaluation is necessary for an accurate diagnosis.
Are you experiencing any of these symptoms, and are they worsening over time? Please consult cancer specialist Dr. Sridhar PS for proper assessment and guidance.
Prostate Cancer Diagnosis
Prostate cancer diagnosis involves a comprehensive approach including Prostate-specific antigen, or PSA, as emphasized by Dr. Sridhar PS.
"This test measures PSA levels in the blood, with elevated levels possibly indicating prostate issues. If the PSA level is higher than 10, it could indicate an issue. However, we consider other factors like benign prostatic hyperplasia or pelvic infections."
Dr. Sridhar typically recommends PSA screening after 50 years, while the American Urological Association (AUA) suggests PSA screening primarily after age 60.
For suspected cases, a pelvic MRI is recommended to visualize prostatic nodules. Following this, Dr. Sridhar may conduct a biopsy.
Guided biopsy assesses the Gleason score or group scoring by obtaining samples from various prostate areas to determine the extent of potential metastasis.
Prostate Cancer Stages
Prostate cancer is typically categorized into four stages: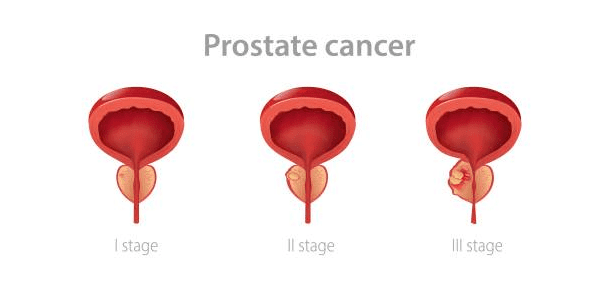 Stage I: Cancer is confined to the prostate gland and is usually small and slow-growing. It's often detected incidentally during surgery for other prostate issues. Risk is categorized as low.
Stage II: Cancer remains within the prostate but might be larger or more aggressive than in Stage I. It's still localized and hasn't spread outside the prostate. Risk is categorized as low to intermediate.
Stage III: Cancer has progressed beyond the prostate to nearby tissues, such as the seminal vesicles. It might not yet involve lymph nodes or distant organs. Risk is categorized as intermediate.
Stage IV: Cancer has metastasized to other areas, possibly distant lymph nodes, bones, or other organs. This is the most advanced stage and requires comprehensive treatment. Risk is categorized as high based on the spread.
Prostate cancer frequently metastasizes to lymph nodes and bones, with rarer instances of liver, lung, and brain metastases. A precise diagnosis is essential to chart an effective treatment path.
Role Of Radiation Therapy In Prostate Cancer Treatment
Radiation therapy is a pivotal component of prostate cancer treatment. It employs high-energy rays to target and destroy cancer cells within the prostate gland. This approach can be curative, eradicating cancerous cells while preserving surrounding healthy tissue.
Dr. Sridhar tailors radiation treatment for prostate cancer to each patient's condition to halt cancer progression and enhance long-term survival rates.
Managing prostate cancer involves a comprehensive approach that depends on factors like the stage of cancer, the patient's overall health, and personal preferences. Here are some common strategies:
Active Surveillance: For low-risk cases, close monitoring without immediate treatment might be an option. Regular check-ups and tests are performed to track the cancer's progression.
Surgery: Surgical removal of the prostate gland (prostatectomy) is standard for early-stage cancer. This is especially effective when cancer is localized and hasn't spread.
Radiation Therapy: External beam radiation or brachytherapy can target and destroy cancer cells. It's often used when surgery isn't an option or as an adjuvant treatment.
Hormone Therapy: This blocks or lowers the levels of male hormones that fuel cancer growth. It's used in advanced cases to control cancer growth or before other treatments to shrink the tumor.
Chemotherapy: Chemotherapy for prostate cancer is typically reserved for advanced cases when cancer has spread beyond the prostate.
Immunotherapy: Immunotherapy boosts the body's immune system to target and destroy cancer cells. It's sometimes used for advanced cases.
Targeted Therapy: Medications target specific genes or proteins in cancer growth for particular cases.
Supportive Care: This includes managing side effects and pain and improving overall well-being.
Clinical Trials: Participation in clinical trials can provide access to experimental treatments that might be more effective.
Treatment decisions should be made in consultation with a medical team, considering the patient's specific condition and preferences. Regular follow-ups are crucial to monitor progress and make adjustments as needed.
Conclusion
In the journey of confronting prostate cancer, knowledge and timely action are paramount. The intricacies of this condition necessitate a comprehensive approach that combines medical expertise with personalized care. The road to managing prostate cancer might be complex. However, it becomes navigable with a dedicated medical team led by Dr. Sridhar PS.
Dr. Sridhar PS, renowned for his proficiency in CyberKnife Treatment in India and Kenya, is a beacon of hope and healing. By seeking his guidance, patients can rest assured that they are in the hands of a practitioner who possesses technical prowess and a genuine commitment to their well-being.