Post Views: 259
Prostate cancer is a widely prevalent condition among men that extends beyond its medical dimensions. It impacts both the physical and emotional fabric of patients and their loved ones. The journey through diagnosis, treatment decisions, and recovery can evoke a range of emotions – from fear and uncertainty to hope and resilience. Navigating this path requires medical expertise, empathy, and personalized care.
In these challenging times, seeking guidance from Dr. Sridhar PS, a seasoned radiation oncologist in India, can offer a steadying hand. Dr. Sridhar stands as a beacon of support, ensuring comprehensive care that addresses the physical and emotional well-being of patients and their families.
Discover groundbreaking strides with new radiation treatment for prostate cancer under the guidance and expertise of renowned radiation oncologist Dr. Sridhar PS.
Understanding Prostate Cancer
Prostate cancer is a type of cancer that develops in the prostate gland, a small, walnut-sized organ situated just below the bladder in men. The prostate gland is crucial in producing seminal fluids that nourish and transport sperm.
"Prostate cancer develops when cells within the prostate gland undergo abnormal growth and multiplication, forming a tumor," explains Dr. Sridhar PS. "While some prostate cancers grow slowly and may not cause significant harm, others can be more aggressive and spread to nearby tissues or other body parts."
Dr. Sridhar PS is the go-to doctor for people considering radiotherapy for prostate cancer in India.
New Advancements in Radiation Therapy for Prostate Cancer
The landscape of prostate cancer treatment in India is witnessing a remarkable transformation, thanks to medical and technological advances in radiation therapy. Techniques like CyberKnife and proton therapy are redefining the approach to cancer care. They offer renewed hope and improved patient outcomes.
Challenges of Prostate Cancer
The challenge of prostate cancer lies in its complexity and variability. This disease can exhibit slow growth, making it harder to detect and diagnose at an early stage. Balancing the need for intervention with potential side effects presents another challenge. Additionally, prostate cancer's heterogeneity means that treatments must be individualized to address varying levels of aggressiveness effectively.
Overcoming these challenges requires comprehensive screening, informed decision-making, and advanced treatment approaches tailored to each patient's unique circumstances.
hope to patients.
So, what exactly is CyberKnife treatment? Let's delve in.
CyberKnife Treatment: Precision and Flexibility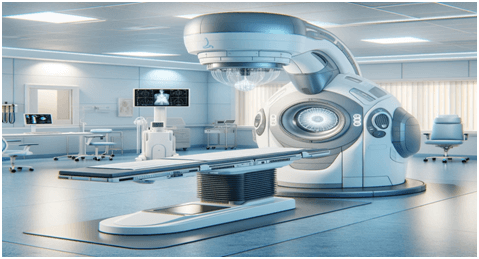 CyberKnife is a form of stereotactic body radiation therapy (SBRT). It is a non-invasive, high-precision method known for its effectiveness. CyberKnife treatment in India has proven to be a game-changer in treating various malignancies. It targets cancer cells with extreme accuracy while sparing surrounding healthy tissue. This leads to fewer side effects and a shorter treatment duration.
Some studies show that CyberKnife treatment can achieve a 90% success rate in localized prostate cancer. This highlights the efficacy of CyberKnife and brings a new ray of hope to patients.
Interested in how CyberKnife works? Read on for the step-by-step process.
The CyberKnife Treatment Process
1. Planning:
Initially, the oncologist may conduct a detailed imaging study like MRI or CT scans. These images help in creating a precise treatment plan by mapping the exact location and size of the prostate tumor.
2. Setup and Positioning:
During treatment sessions, the patient will lie on a table. The CyberKnife system uses real-time imaging to track the tumor's position. This is crucial as the prostate can move during treatment due to breathing or other natural body movements.
3. Delivery of Radiation:
The CyberKnife machine, equipped with a robotic arm, directs high doses of radiation to the prostate tumor from various angles. Its precision is such that it adjusts for prostate movement. This ensures minimal exposure to surrounding healthy tissues.
4. Duration:
Treatment sessions are typically short. They usually last for an hour. The total number of sessions depends on individual treatment plans. The sessions are generally fewer, around one to five than in traditional radiation therapy.
Considering CyberKnife treatment in Mumbai? Get all the information you need to make an informed decision. Click here to start your journey to recovery!
"Now, let's talk about proton therapy and its unique benefits."
Proton Therapy: Precision Targeting
Unlike traditional radiation, proton therapy uses positively charged particles, protons, to deliver radiation. It precisely supplies doses of radiation directly at the tumor site. This enables the delivery of higher radiation doses to the cancer cells. It causes minimal damage to adjacent healthy tissues.
This method helps reduce radiation exposure to non-targeted areas.
Clinical trials have shown that proton therapy can decrease the risk of side effects by up to 59% than conventional radiotherapy. As a result, patients who undergo proton therapy report fewer side effects. Over 70% of patients experience an improved quality of life post-treatment.
Advancements in radiation therapy give patients more options and control in their treatment. These targeted, effective methods with fewer side effects help maintain a better quality of life during and after treatment.
"Curious about how Proton Therapy differs? Let's dive deeper."
How Does Proton Therapy Work?
1. Preparation:
Before the treatment, the patient will undergo imaging tests like CT or MRI scans. These help in mapping the exact location and size of the tumor.
2. Treatment Planning:
Oncologists use these images to create a precise treatment plan. It also helps calculate the exact dose of protons needed and their path.
3. The Procedure:
During treatment, a synchrotron or cyclotron accelerates protons to high speeds, directing them to the tumor. The patient will lie still on a table while a gantry device rotates around them, delivering protons from different angles.
4. Duration and Sessions:
Each session is quick, often under 30 minutes. The entire treatment course can range from a few days to several weeks. It depends on the specifics of the cancer.
Role Of Radiation Therapy In Prostate Cancer Treatment
Radiation therapy is a pivotal component of prostate cancer treatment. It employs high-energy rays to target and destroy cancer cells within the prostate gland. This approach can be curative, eradicating cancerous cells while preserving surrounding healthy tissue.
Dr. Sridhar tailors radiation treatment for prostate cancer to each patient's condition to halt cancer progression and enhance long-term survival rates.
Managing prostate cancer involves a comprehensive approach that depends on factors like the stage of cancer, the patient's overall health, and personal preferences. Here are some common strategies:
Active Surveillance: For low-risk cases, close monitoring without immediate treatment might be an option. Regular check-ups and tests are performed to track the cancer's progression.
Surgery: Surgical removal of the prostate gland (prostatectomy) is standard for early-stage cancer. This is especially effective when cancer is localized and hasn't spread.
Radiation Therapy: External beam radiation or brachytherapy can target and destroy cancer cells. It's often used when surgery isn't an option or as an adjuvant treatment.
Hormone Therapy: This blocks or lowers the levels of male hormones that fuel cancer growth. It's used in advanced cases to control cancer growth or before other treatments to shrink the tumor.
Chemotherapy: Chemotherapy for prostate cancer is typically reserved for advanced cases when cancer has spread beyond the prostate.
Immunotherapy: Immunotherapy boosts the body's immune system to target and destroy cancer cells. It's sometimes used for advanced cases.
Targeted Therapy: Medications target specific genes or proteins in cancer growth for particular cases.
Supportive Care: This includes managing side effects and pain and improving overall well-being.
Clinical Trials: Participation in clinical trials can provide access to experimental treatments that might be more effective.
Treatment decisions should be made in consultation with a medical team, considering the patient's specific condition and preferences. Regular follow-ups are crucial to monitor progress and make adjustments as needed.
"How do these treatments differ from traditional methods? Read on for a comprehensive comparison."
Comparing Traditional Treatments with New Radiation Treatment for Prostate Cancer

Prostate cancer, common in men, has been treated with various treatments conventionally. Traditional methods like surgery and conventional radiation have been the mainstay for years. However, the advent of new prostate cancer radiation treatment has revolutionized patient care. This advancement offers targeted therapy. It also minimizes side effects, a significant concern for many.
Traditional Treatments Vs. New Radiation Therapy: A Comparative Overview
| | | |
| --- | --- | --- |
| Aspect | Traditional Treatments | New Radiation Treatment for Prostate Cancer |
| Methodology | Often invasive (surgery) or using broad-spectrum radiation (conventional radiotherapy). | Utilizes precise, targeted radiation, minimizing damage to surrounding tissues. |
| Side Effects | Higher risk of side effects like incontinence and sexual dysfunction. | Significantly reduced side effects, preserving quality of life. |
| Treatment Duration | Longer treatment courses, often spanning weeks or months. | Shorter treatment cycles, allowing quicker return to daily activities. |
| Effectiveness | Effective but with a higher risk of recurrence in some cases. | Increased precision in targeting cancer cells, potentially improving success rates. |
| Patient Comfort | Can be physically and emotionally taxing. | More comfortable and less disruptive to daily life. |
| Technological Advancements | Traditional technology. | Incorporates the latest in medical technology for improved outcomes. |
The new prostate cancer radiation treatment marks a significant leap forward in oncology. It is tailored to precisely address the tumor by safeguarding healthy tissues and organs. This treatment is effective as well as patient-centric.
"But what benefits do this new treatment of prostate cancer in India offer? Let's explore."
Urinary Changes like increased frequency of urination, urgency to urinate, a sense of incomplete emptying of the bladder, and difficulties initiating urination.
Blood in the urine (hematuria) can indicate prostate cancer.
Pain or discomfort during urination or ejaculation
In advanced cases, prostate cancer can spread to other body parts, primarily bones. This often leads to bone pain, especially in the lower back, hips, or ribs.
Metastatic prostate cancer can weaken bones, leading to fractures, particularly in elderly individuals.
As with many cancers, advanced prostate cancer may cause fatigue and unintended weight loss.
Other medical conditions can also cause these symptoms, so a thorough medical evaluation is necessary for an accurate diagnosis.
Are you experiencing any of these symptoms, and are they worsening over time? Please consult cancer specialist Dr. Sridhar PS for proper assessment and guidance.
Prostate Cancer Diagnosis
Prostate cancer diagnosis involves a comprehensive approach including Prostate-specific antigen, or PSA, as emphasized by Dr. Sridhar PS.
"This test measures PSA levels in the blood, with elevated levels possibly indicating prostate issues. If the PSA level is higher than 10, it could indicate an issue. However, we consider other factors like benign prostatic hyperplasia or pelvic infections."
Dr. Sridhar typically recommends PSA screening after 50 years, while the American Urological Association (AUA) suggests PSA screening primarily after age 60.
For suspected cases, a pelvic MRI is recommended to visualize prostatic nodules. Following this, Dr. Sridhar may conduct a biopsy.
Guided biopsy assesses the Gleason score or group scoring by obtaining samples from various prostate areas to determine the extent of potential metastasis.
Prostate Cancer Stages
Prostate cancer is typically categorized into four stages: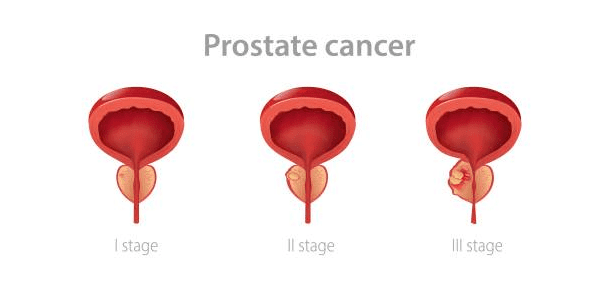 Stage I: Cancer is confined to the prostate gland and is usually small and slow-growing. It's often detected incidentally during surgery for other prostate issues. Risk is categorized as low.
Stage II: Cancer remains within the prostate but might be larger or more aggressive than in Stage I. It's still localized and hasn't spread outside the prostate. Risk is categorized as low to intermediate.
Stage III: Cancer has progressed beyond the prostate to nearby tissues, such as the seminal vesicles. It might not yet involve lymph nodes or distant organs. Risk is categorized as intermediate.
Stage IV: Cancer has metastasized to other areas, possibly distant lymph nodes, bones, or other organs. This is the most advanced stage and requires comprehensive treatment. Risk is categorized as high based on the spread.
Prostate cancer frequently metastasizes to lymph nodes and bones, with rarer instances of liver, lung, and brain metastases. A precise diagnosis is essential to chart an effective treatment path.
ndition and preferences. Regular follow-ups are crucial to monitor progress and make adjustments as needed.
Benefits of New Radiation Treatments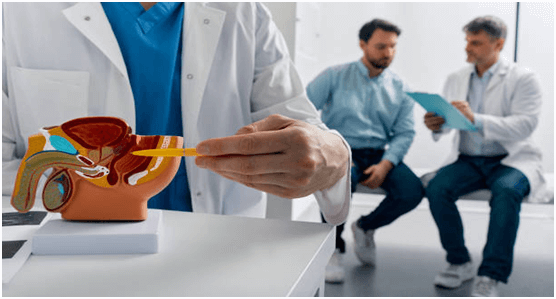 1. Enhanced Precision and Accuracy:
New prostate cancer treatments have made significant strides in precision. These advancements allow for highly targeted therapy. It focuses radiation directly on cancer cells while sparing healthy tissue.
This accuracy increases the effectiveness of the treatment. It also minimizes damage to surrounding organs. This leads to higher chances of successful treatment with fewer complications.
2. Reduced Side Effects:
One of the most significant benefits of modern radiation techniques is the notable reduction in side effects. Traditional radiation therapies often cause painful and debilitating side effects. However, the new radiation treatment for prostate cancer has transformed this narrative.
Patients now experience fewer gastrointestinal and urinary issues. It is a significant step in improving the quality of life during and after treatment.
3. Improved Patient Outcomes:
The ultimate goal of any cancer treatment is to enhance patient outcomes. The new radiation treatment for prostate cancer is significantly improving patient outcomes. Patients are seeing better overall results with improved precision and reduced side effects.
This includes higher rates of cancer control and, often, complete remission. These advancements contribute to a more positive and hopeful treatment journey for patients.
4. Shorter Treatment Duration:
Time is a critical factor in cancer treatment. The latest radiation therapies have optimized treatment duration. Patients spend less time undergoing therapy while still receiving adequate treatment. This efficiency is beneficial for the patient's physical health. It also supports their mental well-being and lifestyle.
5. Tailored Treatment Plans:
Each case of prostate cancer is unique. The new radiation treatment acknowledges this by offering more personalized treatment plans. Expert radiation oncologists like Dr. Sridhar PS can tailor therapy to patients' needs and circumstances. This leads to more effective and patient-centric care.
Understanding the Dynamics and Risk Factors of Prostate Cancer
Prostate cancer has witnessed a notable rise recently, with a broad range of factors contributing to its prevalence. The most common factors are:
Age: The age group vulnerable to this condition spans from as early as 35-40. However, the most common range lies within the 55 to 60+ age group.
Genetics: Genetics also plays a significant role, particularly with a strong family history. If a father has prostate cancer, the likelihood of his male offspring inheriting it is notably higher.
Genetic mutations such as BRCA (BReast CAncer gene) can further amplify this risk. So, if the mother has breast cancer and her son has the BRCA mutation, he is at risk of prostate cancer.
Other Risk Factors and Influences
Although no singular risk factors are definitively established, specific trends have been observed.
Multiple sexual partners and recurring prostatic or pelvic infections are considered potential initiators or triggers of prostate cancer.
Individuals who regularly consume red meat seem to exhibit a higher susceptibility, as highlighted by its prevalence among African Americans, Europeans, and Africans. This form of cancer is most commonly identified in the Western world. It stands as the predominant form of male cancer within these regions.
"Considering your treatment options? Here's what you need to know."
The Right Treatment Option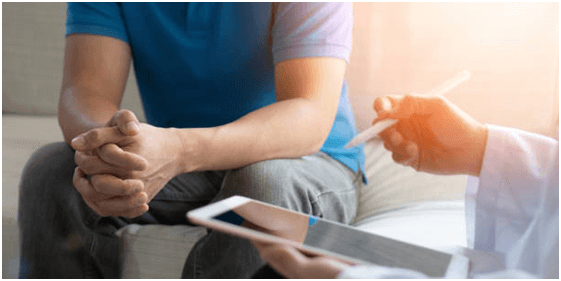 When faced with a prostate cancer diagnosis, selecting the right treatment becomes a critical decision. This choice is deeply personal and unique to each individual. It depends on various factors. This includes cancer stage, overall health, and personal preferences. It is not just about treating cancer. It is about choosing a path that aligns with the patient's lifestyle and long-term health goals.
Firstly, let's talk about the stage of cancer. The new prostate cancer radiation treatment is highly effective in targeting localized or regionally advanced cancer. If the cancer hasn't spread extensively, this treatment could be a game-changer. It is known for its ability to concentrate radiation precisely where needed. This helps minimize damage to surrounding healthy tissue.
But what about the patient's overall health? This is where the conversation gets more personal. Prostate cancer treatments, like any medical procedure, come with their own set of risks and benefits. The new radiation treatment can offer a favorable balance for those in good general health. It can maximize effectiveness and minimize side effects. However, discussing with a seasoned radiation oncologist about the patient's overall health and any other conditions that might influence the treatment choice is essential.
Then, there is the matter of personal preferences. Your comfort and peace of mind are crucial in your cancer journey. Some patients prefer treatments that are less invasive or have a shorter recovery time. Prostate cancer radiation treatment often allows patients to maintain their usual routine with minimal disruption.
Remember, every cancer journey is unique. What works for one patient might not be ideal for another. So, take your time, ask questions, and gather all the necessary information. After all, this decision is about you, your health, and your future.
Ready to discuss your treatment options? Consult Dr. Sridhar PS, a highly experienced radiation oncologist in Mumbai, for personalized advice.
"Planning for treatment? Let's learn how to prepare for treatment."
Preparing for New Radiation Therapy
Embarking on a journey through cancer treatment can be daunting. Being well-prepared can make a significant difference. Here, we provide practical tips and guidelines for patients undergoing new radiation treatment for prostate cancer.
1. Understanding the Treatment:
It is crucial to have a clear understanding of what the new radiation treatment for prostate cancer entails. Feel free to ask your oncologist detailed questions. What does the procedure involve? How does it differ from traditional prostate cancer radiation therapies? Knowledge is empowering.
2. Nutrition and Hydration:
Prioritize a balanced diet rich in nutrients that aid recovery and overall well-being. Staying hydrated is equally important. Discuss with your dietician or doctor about any specific dietary adjustments. They may benefit your condition during the prostate cancer radiation treatment.
3. Physical Fitness:
Engage in light to moderate exercise, as recommended by your doctor. It can improve your strength and endurance. It can also help your body to better cope with the treatment's effects. This could include walking, Yoga, or other gentle activities tailored to your ability and health status.
4. Mental Well-being:
It is not just about physical health. Mental and emotional support is critical. Consider counseling or support groups to navigate the emotional challenges of prostate cancer treatments. Remember, it is okay to seek help.
5. Follow-up and Monitoring:
Regular follow-ups are a critical aspect of the treatment journey. Record your symptoms, any side effects, and general well-being. This information can be invaluable for your medical team in tailoring the new radiation treatment for your specific needs.
6. Family and Social Support:
Don't underestimate the power of a strong support system. Lean on family and friends for help and moral support. Sharing your experiences and concerns with loved ones can be therapeutic and uplifting.
Each step you take in preparing for the new radiation treatment for prostate cancer is a step toward recovery and well-being. Stay informed, stay active, and never hesitate to reach out for support.
Conclusion
The new prostate cancer radiation treatment is a significant breakthrough in cancer care. It is the result of extensive research and clinical progress. This new method brings hope to prostate cancer patients and is a substantial achievement in cancer therapies.
Dr. Sridhar P S, a reputed radiation oncologist in India, plays a pivotal role in adopting and succeeding in this new prostate cancer radiation treatment. His skills and dedication have been crucial in making this advanced therapy available to patients. The promising results we have seen highlight this treatment's effectiveness in managing prostate cancer.
"Got questions? Let's answer some common ones."
FAQs:
1. What is the latest radiation treatment of prostate cancer in India?
The latest advancement is Stereotactic Body Radiation Therapy (SBRT). This technology targets cancer cells with high precision. It helps minimize damage to surrounding healthy tissue. It is a game-changer in terms of effectiveness and reducing side effects.
2. How many radiation treatments for prostate cancer?
The number of treatments varies depending on the type and stage of your cancer. Typically, conventional radiation therapy ranges from 20 to 40 sessions. Yet, with advanced techniques like SBRT, it could be as few as five sessions.
3. What to expect after radiation treatment for prostate cancer?
Post-treatment, you might experience fatigue, urinary irritation, or bowel changes. These are common and usually temporary. Open communication with your oncologist is crucial for personalized care and support.
4. How long is radiation treatment for prostate cancer?
Each session of radiation treatment is relatively quick. It usually lasts for about 15-30 minutes. The total duration of the treatment course can range from one week (for SBRT) to several weeks for conventional therapy. It depends on your specific treatment plan.
5. What is the best radiation treatment for prostate cancer in India?
"Best" depends on individual cases. SBRT is highly effective for localized prostate cancer due to its precision. However, your doctor might recommend other forms, like Intensity-Modulated Radiation Therapy (IMRT) or brachytherapy, based on your cancer's specifics and overall health.